We have dedicated many years to find and develop our finest product recipes. 
Everything started in a small kitchen in a small Czech village in 2004 when our founder had made his very own first Baked tea.  A few years later, we were able to introduce our products to the Czech market, and since then, our original Baked tea is a part of many Czech households.
Discover the freshness of our products!
We made our products without any artificial ingredients – there are not aromas, preservatives, e-numbers, or colourants. Only selected fruits, vegetables, and spices make our products very special.
What do we offer?
• Unique Baked tea – tea with Czech origins
• Fresh beverage Frozen fruit with big pieces of fruit
• Pulpy smoothie Gabík
• Granny's syrup made in the traditional Czech way
• Selected nuts in crystal clear acacia honey
• Pečenáda, extraordinary fruit spread
• Fruit jelly candies Frubo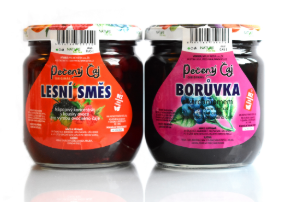 Our inspiration? Nature!
We do care about our products, so we make them with proper treatment. Baked teas are hand-made, and we do bake them. Every fruit is undamaged thanks to this technique.
Owing to modern technologies, we made other products such as Gabík smoothie more colourful and delicious without any artificial ingredients.
"We do look for our inspiration in our nature and even while we travel. We travel to discover different tastes and methods so we can improve ourselves."
Join us on our path
You can find our delicate products in café shops, restaurants, health food shops, tea shops, farmer markets, or in chain stores in the Czech republic.
But we have our representatives in Slovakia, Hungary, Switzerland, and Poland.
So if you are interested in cooperation, feel free to join us!